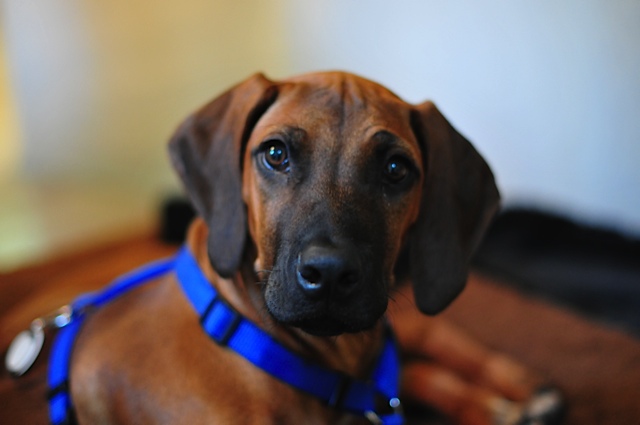 "We signed up for the six week course which costs $199. Our dog was three months old when we began, and not any kind of terror, but 100% puppy (a little wild, mouthy, unfocused, etc.)
We've been really happy with the class.
Tara
and Amir are FANTASTIC trainers and really know their stuff. They use a completely positive approach to training and experts agree that this is the best way to train. We were really happy when we found out that this is their policy."
M.M - Highland Park, CA - 3-2-13
"Tara is currently training our 5 month old male Rhodesian Ridgeback and is doing a wonderful job with him. Tara started training when our puppy was three months old, and has been to our house about a dozen times, with each training session lasting one hour.

Tara uses a totally positive training technique, without any harsh (or even mild) corrections. This has been quite a different experience for me; previous - very good and loving - trainers we have used for our other dogs utilized sharp corrections to obtain desired behaviors, which I found uncomfortable. Tara uses only love, kindness, food, and brains. Her control over our puppy, achieved using only verbal commands and food, has been quite amazing to see. He now (mostly) sits on command, goes down on command, heels on command, looks me in the eye when walking, and stays in one place on command.

Equally important to me, Ramble absolutely loves Tara. Even though he is quite bonded and attached to me, when he sees Tara, he is perfectly happy to go off with her for a walk without hesitation. I very much like the fact that our puppy is so comfortable with Tara.

Tara is totally professional in every way, and has been wonderful to work with and very helpful to me in dealing with the various behavior issues that we are encountering as our puppy grows up.
I trust Tara totally, and highly recommend her as a dog trainer. I would never use any one other than Tara."
Roger N. - Santa Monica, CA - 9-28-11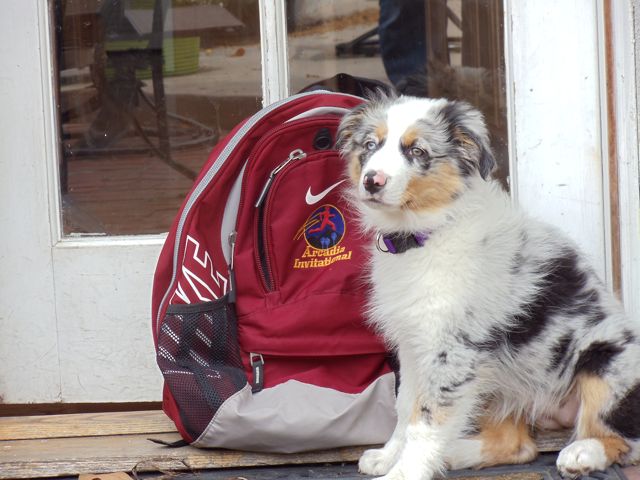 "We met Tara as a trainer for Karma Dog at Bow Wow Bungalow. She was extremely friendly, learning all of the dogs' names within minutes. As a teacher, it is easy to see that she has excellent teaching skills. She begins each lesson by demonstrating on an "imaginary" dog - explaining the "how" and the "why" of her methods. Next, she uses one of the dogs in the class to show how her instructions work with a real dog. The great thing is, she offers modifications and additional ideas as she sees how the dog reacts. Finally, she makes sure to get around to everyone offering praise, ideas and modifications to make the command more challenging. In this way, she meets everyone's needs. After leaving her class, I always felt confident that I had a new, positive instructional method to work on during the week. Tara is a top class trainer, and I would strongly recommend her to anyone."
- Jessica V. - Pasadena, CA - 8-14-11
"My sister recommended Tara after she did a great job training her little pug. I am so grateful!! I have a large breed puppy, Alex. He's learned to sit, down, stay, come here, paw, other paw, high five, high ten, go to your place, touch, leave it, go to sleep, and heel!! Tara gives me great feedback and suggestions on what to do when I have questions arise. I highly recommend her as a caring, competent, and effective professional dog trainer!!"
- Enrique Cheng - West Holywood, CA - 5-6-11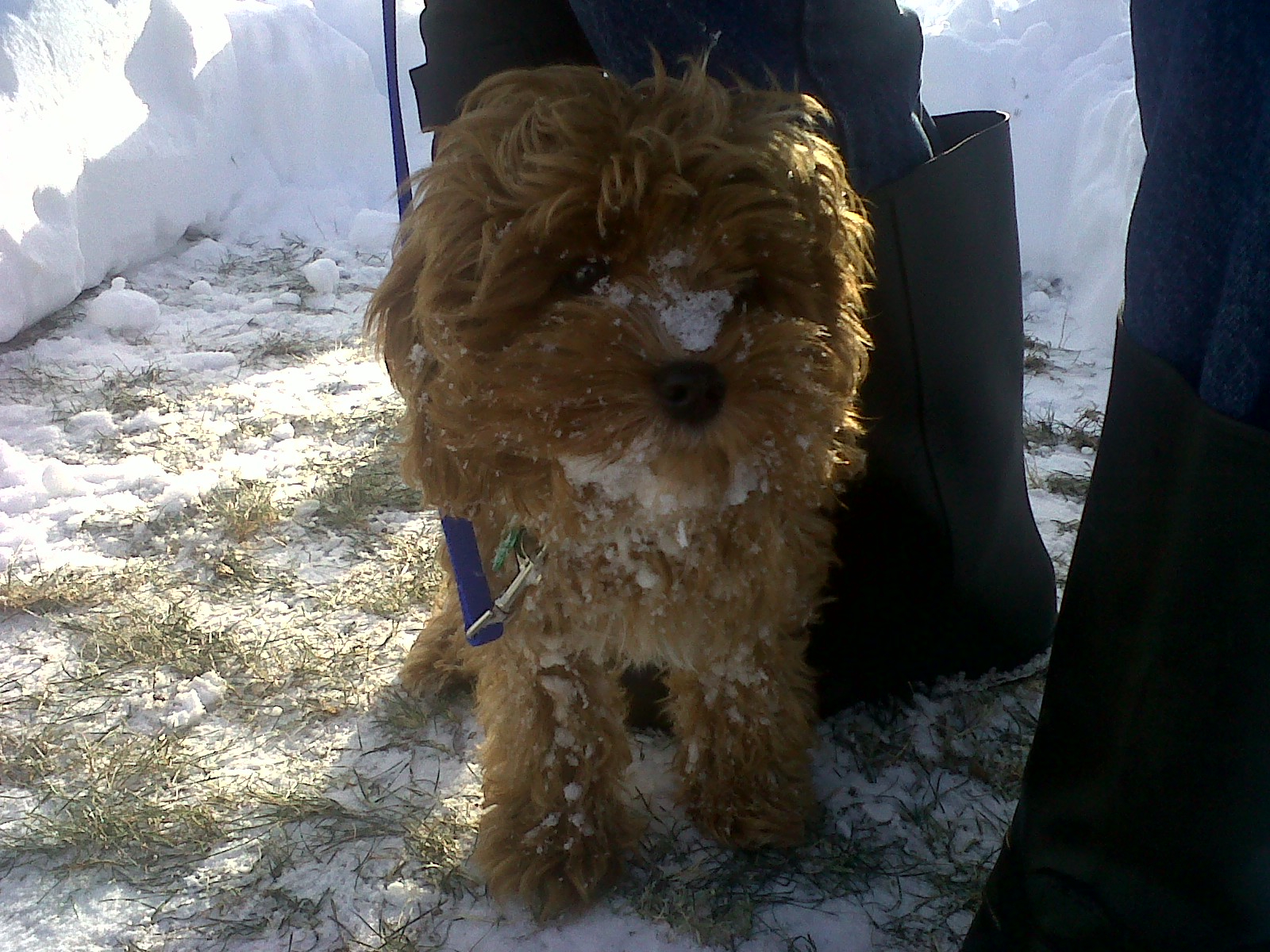 "Tara is a fantastic dog trainer! So gentle and patient with my cavapoo puppy Jasper, and she just knows how to talk "dog" - he understood her & is now so well trained! She came to my house 3 times, starting when he was 11 weeks old, and we took her puppy kindergarten class to help socialize little Jasper. Starting early was key - Jasper didn't have time to develop bad habits. We practiced together for about 10 mins every day.Jasper still has problems with jumping on people when they arrive, so I keep him on leash (as instructed) until they've been here about 20 mins. He was housetrained almost immediately. He's a joy. I recommend Tara to everyone!"
-Vivian P. - Los Angeles, Ca - 5-2-11
"Tara is amazing. My dog Bella is a rescue and was very afraid of people. Tara came to the house on several occasions and spent time just socializing. We have since attended several training sessions with other dogs. Tara focuses on each dog individually and makes very specific suggestions to the owners to make sure the dogs are successful and confident. I also feel that I get trained each and every time she works with us! Bella and I have made great progress. I recommend Tara to everyone who asks about training."
-Elizabeth S. - Burbank, CA - 5-3-11
"Tara is an amazing dog trainer! I am studying to be a dog trainer and Tara was my mentor so I was able to observe a lot of owners and puppies go through the training process from beginning to end. The best part was that were all successful!
Tara has a lot of insight into the training process and a lot of information to share. She is very patient and an excellent tutor for me!
I volunteer with a dog rescue organization so I was pleased to see the large number of rescue dogs that went through the class."
-Debbie Gaylor - Culver City, CA- 6-14-11